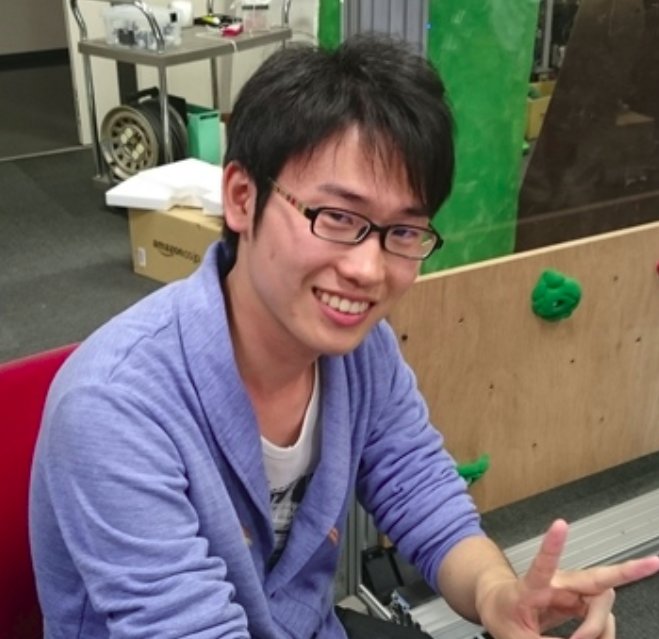 Kento Kawaharazuka
Ph.D. Student
Department of Mechano-Informatics,
Graduate School of Information Science and Technology,
The University of Tokyo, Tokyo, Japan


Biography

Kento Kawaharazuka is a second year Ph.D. student in JSK Robotics Laboratory at the University of Tokyo. His research interests are mainly in humanoids, including biomimetics, tendon-driven robots, and machine learning. He designs tendon-driven humanoids and develops learning control systems to move them.
Interests
Humanoid
Biomimetics
Machine Learning
Tendon-driven
Education
Ph.D. Student in Mechano-Informatics, 2019- (Graduate School of Information Science and Technology, The University of Tokyo)
M.S. in Mechano-Informatics, 2017-2019 (Graduate School of Information Science and Technology, The University of Tokyo)
B.S. in Mechano-Informatics, 2013-2017 (Faculty of Engineering, The University of Tokyo)
Laboratory
JSK Robotics Laboratory (Prof. Masayuki Inaba), The University of Tokyo
Scholarship
ACT-X, Japan Science and Technology Agency (JST), December (2020) - March (2023)
Toyota-Dowango Scholarship for Training of Excellent Human Resources in Artificial Intelligence, April (2020) - March (2021)
Overseas Challenge Program for Young Scientists, Japan Society for the Promotion of Science (JSPS), April (2020) – August (2020)
Research Fellowship for Young Scientists DC1, Japan Society for the Promotion of Science (JSPS), April (2019) – March (2022)
Toyota-Dowango Scholarship for Training of Excellent Human Resources in Artificial Intelligence, April (2018) - March (2019)
Toyota-Dowango Scholarship for Training of Excellent Human Resources in Artificial Intelligence, April (2017) - March (2018)
Publications
Journal Papers
K. Kawaharazuka, K. Tsuzuki, Y. Koga, Y. Omura, T. Makabe, K. Shinjo, M. Onitsuka, Y. Nagamatsu, Y. Asano, K. Okada, K. Kawasaki, M. Inaba
Toward Autonomous Driving by Musculoskeletal Humanoids: Study of Developed Hardware and Learning-Based Software, IEEE Robotics and Automation Magazine (RAM), vol. 27, no. 3, pp. 84-96, 2020
K. Kawaharazuka, K. Tsuzuki, M. Onitsuka, Y. Asano, K. Okada, K. Kawasaki, M. Inaba
Object Recognition, Dynamic Contact Simulation, Detection, and Control of the Flexible Musculoskeletal Hand Using a Recurrent Neural Network With Parametric Bias, IEEE Robotics and Automation Letters (RAL), vol. 5, no. 3, pp. 4580-4587, 2020, (presented at IROS2020)
K. Kawaharazuka, N. Hiraoka, K. Tsuzuki, M. Onitsuka, Y. Asano, K. Okada, K. Kawasaki, M. Inaba
Estimation and Control of Motor Core Temperature with Online Learning of Thermal Model Parameters: Application to Musculoskeletal Humanoids, IEEE Robotics and Automation Letters (RAL), vol. 5, no. 3, pp. 4273-4280, 2020, (presented at IROS2020)
K. Kawaharazuka, K. Tsuzuki, M. Onitsuka, Y. Asano, K. Okada, K. Kawasaki, M. Inaba
Musculoskeletal AutoEncoder: A Unified Online Acquisition Method of Intersensory Networks for State Estimation, Control, and Simulation of Musculoskeletal Humanoids, IEEE Robotics and Automation Letters (RAL), vol. 5, no. 2, pp. 2411-2418, 2020, (presented at ICRA2020)
K. Kawaharazuka, S. Makino, M. Kawamura, S. Nakashima, Y. Asano, K. Okada, M. Inaba
Human Mimetic Forearm and Hand Design with a Radioulnar Joint and Flexible Machined Spring Finger for Human Skillful Motions, Journal of Robotics and Mechatronics (JRM), vol. 32, no. 2, pp. 445-458, 2020, (The first two authors contributed equally to this work)
K. Kawaharazuka, K. Tsuzuki, S. Makino, M. Onitsuka, Y. Asano, K. Okada, K. Kawasaki, M. Inaba
Long-time Self-body Image Acquisition and its Application to the Control of Musculoskeletal Structures, IEEE Robotics and Automation Letters (RAL), vol. 4, no. 3, pp. 2965-2972, 2019, (presented at IROS2019)
K. Kawaharazuka, S. Makino, M. Kawamura, Y. Asano, K. Okada, M. Inaba
Online Learning of Joint-Muscle Mapping using Vision in Tendon-driven Musculoskeletal Humanoids, IEEE Robotics and Automation Letters (RAL), vol. 3, no. 2, pp. 772-779, 2018, (presented at ICRA2018)
K. Kawaharazuka, M. Kawamura, S. Makino, Y. Asano, K. Okada, M. Inaba
Antagonist Inhibition Control in Redundant Tendon-driven Structures Based on Human Reciprocal Innervation for Wide Range Limb Motion of Musculoskeletal Humanoids, IEEE Robotics and Automation Letters (RAL), vol. 2, no. 4, pp. 2119-2126, 2017, (presented at IROS2017)
International Conference Proceedings (Peer Reviewed)
K. Kawaharazuka, Y. Koga, K. Tsuzuki, M. Onitsuka, Y. Asano, K. Okada, K. Kawasaki, M. Inaba
Exceeding the Maximum Speed Limit of the Joint Angle for the Redundant Tendon-driven Structures of Musculoskeletal Humanoids, in Proceedings of the 2020 IEEE/RSJ International Conference on Intelligent Robots and Systems (IROS2020), pp. 3585-3590, 2020
K. Kawaharazuka, Y. Koga, K. Tsuzuki, M. Onitsuka, Y. Asano, K. Okada, K. Kawasaki, M. Inaba
Applications of Stretch Reflex for the Upper Limb of Musculoskeletal Humanoids: Protective Behavior, Postural Stability, and Active Induction, in Proceedings of the 2020 IEEE/RSJ International Conference on Intelligent Robots and Systems (IROS2020), pp. 3598-3603, 2020
K. Kawaharazuka, T. Ogawa, C. Nabeshima
Tool Shape Optimization through Backpropagation of Neural Network, in Proceedings of the 2020 IEEE/RSJ International Conference on Intelligent Robots and Systems (IROS2020), pp. 8387-8393, 2020
Y. Toshimitsu, K. Kawaharazuka, K. Tsuzuki, M. Onitsuka M. Nishiura, Y. Koga, Y. Omura, M. Tomita, Y. Asano, K. Okada, K. Kawasaki, M. Inaba
Biomimetic Control Scheme for Musculoskeletal Humanoids Based on Motor Directional Tuning in the Brain, in Proceedings of the 2020 IEEE/RSJ International Conference on Intelligent Robots and Systems (IROS2020), pp. 7784-7791, 2020
K. Kawaharazuka, K. Tsuzuki, M. Onitsuka, Y. Asano, K. Okada, K. Kawasaki, M. Inaba
Stable Tool-Use with Flexible Musculoskeletal Hands by Learning the Predictive Model of Sensor State Transition, in Proceedings of the 2020 IEEE International Conference on Robotics and Automation (ICRA2020), pp. 4572-4578, 2020
T. Nishio, M. Zhao, F. Shi, T. Anzai, K. Kawaharazuka, K. Okada, M. Inaba
Stable Control in Climbing and Descending Flight under Upper Walls using Ceiling Effect Model based on Aerodynamics, in Proceedings of the 2020 IEEE International Conference on Robotics and Automation (ICRA2020), pp. 172-178, 2020
K. Kawaharazuka, S. Makino, K. Tsuzuki, M. Onitsuka, Y. Nagamatsu, K. Shinjo, T. Makabe, Y. Asano, K. Okada, K. Kawasaki, M. Inaba
Component Modularized Design of Musculoskeletal Humanoid Platform Musashi to Investigate Learning Control Systems, in Proceedings of the 2019 IEEE/RSJ International Conference on Intelligent Robots and Systems (IROS2019), pp. 7294-7301, 2019
K. Kawaharazuka, K. Tsuzuki, S. Makino, M. Onitsuka, K. Shinjo, Y. Asano, K. Okada, K. Kawasaki, M. Inaba
Task-specific Self-body Controller Acquisition by Musculoskeletal Humanoids: Application to Pedal Control in Autonomous Driving, in Proceedings of the 2019 IEEE/RSJ International Conference on Intelligent Robots and Systems (IROS2019), pp. 813-818, 2019
K. Kawaharazuka, T. Ogawa, C. Nabeshima
Dynamic Task Control Method of a Flexible Manipulator Using a Deep Recurrent Neural Network, in Proceedings of the 2019 IEEE/RSJ International Conference on Intelligent Robots and Systems (IROS2019), pp. 7689-7695, 2019
K. Shinjo, K. Kawaharazuka, Y. Asano, S. Nakashima, S. Makino, M. Onitsuka, K. Tsuzuki, K. Okada, K. Kawasaki, M. Inaba
Foot with a Core-shell Structural Six-axis Force Sensor for Pedal Depressing and Recovering from Foot Slipping during Pedal Pushing Toward Autonomous Driving by Humanoids, in Proceedings of the 2019 IEEE/RSJ International Conference on Intelligent Robots and Systems (IROS2019), pp. 3049-3054, 2019
S. Nakashima, T. Shirai, K. Kawaharazuka, Y. Asano Y. Kakiuchi, K. Okada, M. Inaba
An Approach of Facilitated Investigation of Active Self-healing Tension Transmission System Oriented for Legged Robots, in Proceedings of the 2019 IEEE/RSJ International Conference on Intelligent Robots and Systems (IROS2019), pp. 2567-2572, 2019, SICE International Young Authors Award (2019)
T. Makabe, T. Shirai, Y. Nagamatsu, K. Kawaharazuka, S. Fumihito, K. Okada, M. Inaba
Development of Joint Module with Two-Speed Gear Transmission and Joint Lock Mechanism during Driving for Task Adaptable Robot, in Proceedings of the 2019 IEEE/RSJ International Conference on Intelligent Robots and Systems (IROS2019), pp. 5123-5130, 2019
K. Kawaharazuka, K. Tsuzuki, M. Onitsuka, Y. Koga, Y. Omura, Y. Asano, K. Okada, K. Kawasaki, M. Inaba
Reflex-based Motion Strategy of Musculoskeletal Humanoids under Environmental Contact Using Muscle Relaxation Control, in Proceedings of the 2019 IEEE-RAS International Conference on Humanoid Robots (HUMANOIDS2019), pp. 114-119, 2019
Y. Koga, K. Kawaharazuka, M. Onitsuka, T. Makabe, K. Tsuzuki, Y. Omura, Y. Asano, K. Okada, M. Inaba
Modification of Muscle Antagonistic Relations and Hand Trajectory on the Dynamic Motion of Musculoskeletal Humanoid, in Proceedings of the 2019 IEEE-RAS International Conference on Humanoid Robots (HUMANOIDS2019), pp. 632-637, 2019
Y. Asano, S. Nakashima, I. Yanokura, M. Onitsuka, K. Kawaharazuka, K. Tsuzuki, Y. Koga, Y. Omura, K. Okada, M. Inaba
Ankle-Hip-Stepping Stabilizer on Tendon-Driven Humanoid Kengoro by Integration of Muscle-Joint-Work Space Controllers for Knee-Stretched Humanoid Balance, in Proceedings of the 2019 IEEE-RAS International Conference on Humanoid Robots (HUMANOIDS2019), pp. 397-402, 2019
K. Kawaharazuka, K. Tsuzuki, S. Makino, Y. Asano, K. Okada, M. Inaba
Modeling and Online Learning of Musculoskeletal Intersensory Networks for Static Controls of Tendon-driven Humanoids, in Proceedings of 9th International Symposium on Adaptive Motion of Animals and Machines (AMAM2019), 2019, Company of Biologists Early Career Researcher Grant (500 GBP)
K. Kawaharazuka, T. Ogawa, J. Tamura, C. Nabeshima
Dynamic Manipulation of Flexible Objects with Torque Sequence Using a Deep Neural Network, in Proceedings of the 2019 IEEE International Conference on Robotics and Automation (ICRA2019), pp. 2139-2145, 2019
K. Kawaharazuka, T. Makabe, S. Makino, K. Tsuzuki, Y. Nagamatsu, Y. Asano, T. Shirai, F. Sugai, K. Okada, K. Kawasaki, M. Inaba
TWIMP: Two-Wheel Inverted Musculoskeletal Pendulum as a Learning Control Platform in the Real World with Environmental Physical Contact, in Proceedings of the 2018 IEEE-RAS International Conference on Humanoid Robots (HUMANOIDS2018), pp. 784-790, 2018, (The first two authors contributed equally to this work)
K. Kawaharazuka, S. Makino, M. Kawamura, Y. Asano, K. Okada, M. Inaba
A Method of Joint Angle Estimation Using Only Relative Changes in Muscle Lengths for Tendon-driven Humanoids with Complex Musculoskeletal Structures, in Proceedings of the 2018 IEEE-RAS International Conference on Humanoid Robots (HUMANOIDS2018), pp. 1128-1135, 2018
T. Makabe, K. Kawaharazuka, K. Tsuzuki, K. Wada, S. Makino, M. Kawamura, A. Fujii, M. Onitsuka, Y. Asano, K. Okada, K. Kawasaki, M. Inaba
Development of Movable Binocular High-Resolution Eye-Camera Unit for Humanoid and the Evaluation of Looking Around Fixation Control and Object Recognition, in Proceedings of the 2018 IEEE-RAS International Conference on Humanoid Robots (HUMANOIDS2018), pp. 840-845, 2018
K. Kawaharazuka, S. Makino, M. Kawamura, A. Fujii, Y. Asano, K. Okada, M. Inaba
Online Self-body Image Acquisition Considering Changes in Muscle Routes Caused by Softness of Body Tissue for Tendon-driven Musculoskeletal Humanoids, in Proceedings of the 2018 IEEE/RSJ International Conference on Intelligent Robots and Systems (IROS2018), pp. 1711-1717, 2018
S. Makino, K. Kawaharazuka, M. Kawamura, A. Fujii, T. Makabe, M. Onitsuka, Y. Asano, K. Okada, K. Kawasaki, M. Inaba
Five-Fingered Hand with Wide Range of Thumb Using Combination of Machined Springs and Variable Stiffness Joints, in Proceedings of the 2018 IEEE/RSJ International Conference on Intelligent Robots and Systems (IROS2018), pp. 4562-4567, 2018, IEEE RAS Japan Joint Chapter Young Award (2018), IROS ICROS Best Application Paper Award 2018 Finalists
A. Fujii, S. Nakashima, M. Kawamura, K. Kawaharazuka, S. Makino, Y. Asano, K. Okada, M. Inaba
Development and Functional Evaluation of a Deformable Membrane Capsule for an Open Ball Glenohumeral Joint, in Proceedings of The 2018 IEEE RAS/EMBS International Conference on Biomedical Robotics and Biomechatronics (BIOROB2018), pp. 853-858, 2018
K. Kawaharazuka, S. Makino, M. Kawamura, Y. Asano, Y. Kakiuchi, K. Okada, M. Inaba
Human Mimetic Forearm Design with Radioulnar Joint using Miniature Bone-muscle Modules and its Applications, in Proceedings of the 2017 IEEE/RSJ International Conference on Intelligent Robots and Systems (IROS2017), pp. 4956-4962, 2017, IEEE RAS Japan Joint Chapter Young Award (2017)
S. Makino, K. Kawaharazuka, M. Kawamura, Y. Asano, K. Okada, M. Inaba
High-power, flexible, robust hand: Development of musculoskeletal hand using machined springs and realization of self-weight supporting motion with humanoid, in Proceedings of the 2017 IEEE/RSJ International Conference on Intelligent Robots and Systems (IROS2017), pp. 1187-1192, 2017
Y. Asano, T. Kozuki, S. Ookubo, M. Kawamura, S. Nakashima, T. Katayama, Y. Iori, H. Toshinori, K. Kawaharazuka, S. Makino, Y. Kakiuchi, K. Okada, M. Inaba
Human Mimetic Musculoskeletal Humanoid Kengoro toward Real World Physically Interactive Actions, in Proceedings of the 2016 IEEE-RAS International Conference on Humanoid Robots (HUMANOIDS2016), pp. 876-883, 2016, Best Interactive Paper Award Finalist
Domestic Conference Proceedings (Peer Reviewed)
河原塚 健人, 牧野 将吾, 川村 将矢, 藤井 綺香, 浅野 悠紀, 岡田 慧, 稲葉 雅幸
筋骨格ヒューマノイドにおける身体組織の柔軟性による筋経路変化を考慮した逐次的自己身体像の獲得, in 第23回ロボティクスシンポジア予稿集 (ROBOSYM18J), pp. 306-312, 2018
Domestic Conference Proceedings (No Reviewed)
河原塚 健人, 小川 徹, 鍋嶌 厚太
ニューラルネットワークの誤差逆伝播による道具形状最適化, in 第21回SICEシステムインテグレーション部門講演会講演概要集 (SI20J), 3D3-05, 2020
河原塚 健人, 平岡 直樹, 都築 敬, 鬼塚 盛宇, 浅野 悠紀, 岡田 慧, 川崎 宏治, 稲葉 雅幸
温度モデルパラメータのオンライン学習を用いたモータコア温度推定と制御 : 筋骨格ヒューマノイドへの適用, in 第21回SICEシステムインテグレーション部門講演会講演概要集 (SI20J), 2F3-14, 2020
河原塚 健人, 古賀 悠矢, 都築 敬, 鬼塚 盛宇, 浅野 悠紀, 岡田 慧, 川崎 宏治, 稲葉 雅幸
拮抗筋抑制制御と拮抗筋予見伸長制御による冗長な筋を有する筋骨格ヒューマノイドの最大関節速度を突破する動作戦略, in 第21回SICEシステムインテグレーション部門講演会講演概要集 (SI20J), 2D2-08, 2020
大村 柚介, 河原塚 健人, 永松 祐弥, 古賀 悠矢, 西浦 学, 浅野 悠紀, 岡田 慧, 川崎 宏治, 稲葉 雅幸
人体外耳機構を模したヒューマノイドの両耳間スペクトル差学習に基づく空間音源方向推定システム, in 第21回SICEシステムインテグレーション部門講演会講演概要集 (SI20J), 1C3-17, 2020
河原塚 健人, 都築 敬, 鬼塚 盛宇, 浅野 悠紀, 岡田 慧, 川崎 宏治, 稲葉 雅幸
Parametric Biasを含む再帰型ニューラルネットワークを用いた柔軟ハンドの物体認識・動的接触制御/検知/シミュレーション, in 第38回日本ロボット学会学術講演会講演論文集 (RSJ20J), 2A1-05, 2020
鬼塚 盛宇, 西浦 学, 河原塚 健人, 都築 敬, 利光 泰徳, 大村 柚介, 浅野 悠紀, 岡田 慧, 川崎 宏治, 稲葉 雅幸
面状骨格間構造を利用し広い可動域においてモーメントアームを確保し高出力での環境接触動作が可能な筋骨格脚の開発, in 第38回日本ロボット学会学術講演会講演論文集 (RSJ20J), 2G2-08, 2020
利光 泰徳, 河原塚 健人, 都築 敬, 鬼塚 盛宇, 西浦 学, 古賀 悠矢, 大村 柚介, 冨田 幹, 浅野 悠紀, 岡田 慧, 川崎 宏治, 稲葉 雅幸
Motor Directional Tuning現象に基づく筋張力制御による筋骨格ヒューマノイドの上肢動作, in 日本機械学会ロボティクス・メカトロニクス講演会'20 講演論文集 (ROBOMECH20J), 1P1-G05, 2020
大村 柚介, 河原塚 健人, 永松 祐弥, 都築 敬, 鬼塚 盛宇, 古賀 悠矢, 西浦 学, 浅野 悠紀, 岡田 慧, 川崎 宏治, 稲葉 雅幸
外耳構造を有し音響処理を行う人体模倣ヒューマノイドの耳機構の設計開発, in 日本機械学会ロボティクス・メカトロニクス講演会'20 講演論文集 (ROBOMECH20J), 1A1-E12, 2020
河原塚 健人, 都築 敬, 鬼塚 盛宇, 浅野 悠紀, 岡田 慧, 川崎 宏治, 稲葉 雅幸
Musculoskeletal AutoEncoder: 筋骨格ヒューマノイドの状態推定・制御・シミュレーションを統一的に扱う筋骨格センサ間ネットワークのオンライン獲得手法, in 第37回日本ロボット学会学術講演会講演論文集 (RSJ19J), 3B3-06, 2019, 第35回研究奨励賞
河原塚 健人, 小川 徹, 田村 淳太郎, 鍋嶌 厚太
深層学習を用いた関節トルク入力による動的な柔軟物体操作, in 第37回日本ロボット学会学術講演会講演論文集 (RSJ19J), 1A2-06, 2019, 第35回研究奨励賞
中島 慎介, 河原塚 健人, 浅野 悠紀, 垣内 洋平, 岡田 慧, 稲葉 雅幸
自己修復張力伝達モジュールを備える腱駆動脚ロボットの開発, in 第37回日本ロボット学会学術講演会講演論文集 (RSJ19J), 1K3-01, 2019
西浦 学, 河原塚 健人, 鬼塚 盛宇, 浅野 悠紀, 岡田 慧, 稲葉 雅幸
筋骨格ヒューマノイドにおける環境物体に応じた適応的剛性レンジ選択とその可変剛性制御戦略の獲得, in 第37回日本ロボット学会学術講演会講演論文集 (RSJ19J), 1K3-06, 2019
浅野 悠紀, 都築 敬, 河原塚 健人, 鬼塚 盛宇, 古賀 悠矢, 大村 柚介, 永松 祐弥, 真壁 佑, 藤井 綺香, 新城 光樹, 中島 慎介, 岡田 慧, 川崎 宏治, 稲葉 雅幸
腱駆動ヒューマノイドにおける認識判断操作統合に基づく自動車運転の実証実験, in 第37回日本ロボット学会学術講演会講演論文集 (RSJ19J), 3L2-06, 2019
河原塚 健人, 牧野 将吾, 都築 敬, 鬼塚 盛宇, 永松 祐弥, 新城 光樹, 真壁 佑, 浅野 悠紀, 岡田 慧, 川崎 宏治, 稲葉 雅幸
学習制御模索のためのモジュラー型筋骨格プラットフォームの設計開発, in 日本機械学会ロボティクス・メカトロニクス講演会'19 講演論文集 (ROBOMECH19J), 2P1-C06, 2019
河原塚 健人, 都築 敬, 牧野 将吾, 鬼塚 盛宇, 新城 光樹, 浅野 悠紀, 岡田 慧, 川崎 宏治, 稲葉 雅幸
筋骨格ヒューマノイドにおけるタスク特化した動的自己身体制御の獲得 - 自動運転におけるペダル操作への応用 -, in 日本機械学会ロボティクス・メカトロニクス講演会'19 講演論文集 (ROBOMECH19J), 1A1-L08, 2019
真壁 佑, 白井 拓磨, 永松 裕弥, 河原塚 健人, 菅井 文仁, 岡田 慧, 川崎 宏治, 稲葉 雅幸
用途適応型ロボットのための、駆動時二段可変減速非駆動時ロック機構を持つ関節モジュールの設計開発, in 日本機械学会ロボティクス・メカトロニクス講演会'19 講演論文集 (ROBOMECH19J), 2A2-F08, 2019
都築 敬, 河原塚 健人, 真壁 佑, 鬼塚 盛宇, 牧野 将吾, 浅野 悠紀, 岡田 慧, 川崎 宏治, 稲葉 雅幸
可動眼球と自己身体を用いた距離認識機能の獲得, in 日本機械学会ロボティクス・メカトロニクス講演会'19 講演論文集 (ROBOMECH19J), 1A1-M10, 2019
大村 柚介, 河原塚 健人, 牧野 将吾, 鬼塚 盛宇, 新城 光樹, 都築 敬, 古賀 悠矢, 浅野 悠紀, 岡田 慧, 稲葉 雅幸
筋骨格ヒューマノイドにおける時系列聴覚情報を用いた打音認識に基づく動作獲得, in 日本機械学会ロボティクス・メカトロニクス講演会'19 講演論文集 (ROBOMECH19J), 1A1-K03, 2019
古賀 悠矢, 河原塚 健人, 牧野 将吾, 鬼塚 盛宇, 真壁 佑, 都築 敬, 大村 柚介, 浅野 悠紀, 岡田 慧, 稲葉 雅幸
筋骨格ヒューマノイドのダイナミック動作における筋の拮抗関係と手先軌道の修正, in 日本機械学会ロボティクス・メカトロニクス講演会'19 講演論文集 (ROBOMECH19J), 1A1-K02, 2019
新城 光樹, 河原塚 健人, 浅野 悠紀, 中島 慎介, 牧野 将吾, 鬼塚 盛宇, 都築 敬, 岡田 慧, 川崎 宏治, 稲葉 雅幸
コア・シェル構造を有する6軸力計測モジュールをつま先・踵に持つ足部ユニットを用いた等身大筋骨格腱駆動ヒューマノイドによるペダル踏み・復帰動作の実現, in 日本機械学会ロボティクス・メカトロニクス講演会'19 講演論文集 (ROBOMECH19J), 1A1-K01, 2019
鬼塚 盛宇, 河原塚 健人, 牧野 将吾, 新城 光樹, 都築 敬, 中島 慎介, 浅野 悠紀, 岡田 慧, 川崎 宏治, 稲葉 雅幸
筋骨格ヒューマノイドにおける面状牽引構造を有する関節の開発, in 日本機械学会ロボティクス・メカトロニクス講演会'19 講演論文集 (ROBOMECH19J), 1A1-J02, 2019
河原塚 健人, 都築 敬, 牧野 将吾, 鬼塚 盛宇, 浅野 悠紀, 岡田 慧, 稲葉 雅幸
筋骨格構造における長期的自己身体像獲得と可変剛性制御の実現, in 第36回日本ロボット学会学術講演会講演論文集 (RSJ18J), 1J2-02, 2018
河原塚 健人, 真壁 佑, 牧野 将吾, 都築 敬, 永松 祐弥, 浅野 悠紀, 白井 拓磨, 菅井 文仁, 岡田 慧, 稲葉 雅幸
環境接触を伴う学習型制御研究のための筋骨格型倒立二輪ロボットの開発, in 第36回日本ロボット学会学術講演会講演論文集 (RSJ18J), 1P2-02, 2018
都築 敬, 河原塚 健人, 鬼塚 盛宇, 真壁 佑, 牧野 将吾, 浅野 悠紀, 岡田 慧, 稲葉 雅幸
筋骨格ヒューマノイドによる自動車運転動作の実現に向けたペダル操作戦略, in 第36回日本ロボット学会学術講演会講演論文集 (RSJ18J), 2P1-05, 2018
鬼塚 盛宇, 真壁 佑, 河原塚 健人, 牧野 将吾, 浅野 悠紀, 岡田 慧, 稲葉 雅幸
筋骨格ヒューマノイドにおける脚全体の筋に基づく筋張力 ZMP を用いた平衡動作, in 第36回日本ロボット学会学術講演会講演論文集 (RSJ18J), 1J2-05, 2018
河原塚 健人, 牧野 将吾, 陳 相羽, 藤井 綺香, 川村 将矢, 真壁 佑, 鬼塚 盛宇, 浅野 悠紀, 岡田 慧, 川崎 宏治, 稲葉 雅幸
擬似球関節モジュールにより冗長な非線形弾性要素を制御可能な筋骨格ヒューマノイドの上肢設計, in 日本機械学会ロボティクス・メカトロニクス講演会'18 講演論文集 (ROBOMECH18J), 2A2-G09, 2018
牧野 将吾, 河原塚 健人, 藤井 綺香, 川村 将矢, 真壁 佑, 鬼塚 盛宇, 浅野 悠紀, 岡田 慧, 川崎 宏治, 稲葉 雅幸
組み合わせ切削ばねによる広可動域関節母指関節と可変剛性指関節をもつ人体模倣型五指ハンドの開発, in 日本機械学会ロボティクス・メカトロニクス講演会'18 講演論文集 (ROBOMECH18J), 1P1-H16, 2018
真壁 佑, 河原塚 健人, 牧野 将吾, 川村 将矢, 藤井 綺香, 鬼塚 盛宇, 浅野 悠紀, 岡田 慧, 川崎 宏治, 稲葉 雅幸
筋骨格ヒューマノイドにおける可動眼球の開発と車両見回し発進動作の実現, in 日本機械学会ロボティクス・メカトロニクス講演会'18 講演論文集 (ROBOMECH18J), 2A2-G11, 2018
浅野 悠紀, 川村 将矢, 河原塚 健人, 牧野 将吾, 藤井 綺香, 真壁 佑, 鬼塚 盛宇, 岡田 慧, 川崎 宏治, 稲葉 雅幸
人体模倣筋骨格ヒューマノイドにおける筋張力を用いた関節空間コントローラによる車両ペダル操作の実現, in 日本機械学会ロボティクス・メカトロニクス講演会'18 講演論文集 (ROBOMECH18J), 2A2-G07, 2018
藤井綺香, 中島慎介, 川村将矢, 河原塚健人, 牧野将吾, 浅野悠紀, 岡田慧, 稲葉雅幸
人体の関節包構造に示唆を得た柔軟で伸縮変形可能な膜構造を備えた開放型球関節の開発, in 第18回SICEシステムインテグレーション部門講演会講演概要集 (SI17J), 2442-2445, 2017
河原塚 健人, 牧野 将吾, 川村 将矢, 浅野 悠紀, 岡田 慧, 稲葉 雅幸
筋骨格ヒューマノイドにおける視覚を利用した関節-筋空間マップの逐次的再学習, in 第35回日本ロボット学会学術講演会講演論文集 (RSJ17J), 2L1-01, 2017
河原塚 健人, 牧野 将吾, 川村 将矢, 浅野 悠紀, 岡田 慧, 稲葉 雅幸
骨構造一体小型筋モジュールにより構成された橈骨尺骨構造を有する前腕部の設計, in 日本機械学会ロボティクス・メカトロニクス講演会'17 講演論文集 (ROBOMECH17J), 1A1-O11, 2017
牧野 将吾, 河原塚 健人, 川村 将矢, 浅野 悠紀, 岡田 慧, 稲葉 雅幸
筋骨格ヒューマノイドのための切削ばねによる柔軟関節を備えた五指ハンドの開発と自己身体負荷保持動作の実現, in 日本機械学会ロボティクス・メカトロニクス講演会'17 講演論文集 (ROBOMECH17J), 2P1-B08, 2017, 若手優秀講演フェロー賞
Awards (Publication)
S. Nakashima, T. Shirai, K. Kawaharazuka, Y. Asano Y. Kakiuchi, K. Okada, M. Inaba
SICE International Young Authors Award (2019), Proceedings of the 2019 IEEE/RSJ International Conference on Intelligent Robots and Systems (IROS2019)
K. Kawaharazuka, K. Tsuzuki, S. Makino, Y. Asano, K. Okada, M. Inaba
Company of Biologists Early Career Researcher Grant (500 GBP), Proceedings of 9th International Symposium on Adaptive Motion of Animals and Machines (AMAM2019)
S. Makino, K. Kawaharazuka, M. Kawamura, A. Fujii, T. Makabe, M. Onitsuka, Y. Asano, K. Okada, K. Kawasaki, M. Inaba
IEEE RAS Japan Joint Chapter Young Award (2018), Proceedings of the 2018 IEEE/RSJ International Conference on Intelligent Robots and Systems (IROS2018)
S. Makino, K. Kawaharazuka, M. Kawamura, A. Fujii, T. Makabe, M. Onitsuka, Y. Asano, K. Okada, K. Kawasaki, M. Inaba
IROS ICROS Best Application Paper Award 2018 Finalists, Proceedings of the 2018 IEEE/RSJ International Conference on Intelligent Robots and Systems (IROS2018)
K. Kawaharazuka, S. Makino, M. Kawamura, Y. Asano, Y. Kakiuchi, K. Okada, M. Inaba
IEEE RAS Japan Joint Chapter Young Award (2017), Proceedings of the 2017 IEEE/RSJ International Conference on Intelligent Robots and Systems (IROS2017)
Y. Asano, T. Kozuki, S. Ookubo, M. Kawamura, S. Nakashima, T. Katayama, Y. Iori, H. Toshinori, K. Kawaharazuka, S. Makino, Y. Kakiuchi, K. Okada, M. Inaba
Best Interactive Paper Award Finalist, Proceedings of the 2016 IEEE-RAS International Conference on Humanoid Robots (HUMANOIDS2016)
河原塚 健人, 都築 敬, 鬼塚 盛宇, 浅野 悠紀, 岡田 慧, 川崎 宏治, 稲葉 雅幸
第35回研究奨励賞, 第37回日本ロボット学会学術講演会講演論文集 (RSJ19J)
河原塚 健人, 小川 徹, 田村 淳太郎, 鍋嶌 厚太
第35回研究奨励賞, 第37回日本ロボット学会学術講演会講演論文集 (RSJ19J)
牧野 将吾, 河原塚 健人, 川村 将矢, 浅野 悠紀, 岡田 慧, 稲葉 雅幸
若手優秀講演フェロー賞, 日本機械学会ロボティクス・メカトロニクス講演会'17 講演論文集 (ROBOMECH17J)
Awards and Experiences (Others)
Part-time Enginner at Preferred Networks, October (2018) - March (2020)
Internship at Preferred Networks, August - September, 2018
Oral Presentation Award (Second Prize), Deep Learning Day 2018, 20, January, 2018
Code Thanks Festival 2017, 2, December, 2017
Jaxa Award (Second Prize), Moon Hack Hackathon 2017, 11 - 12, November, 2017
Final Round of Code Festival 2016, 26 - 27, November, 2016
2nd RUNNER-UP and ABU ROBOCON AWARD, ABU Robot Contest 2016, Clean Energy Recharging the World, 21, August, 2016
First Prize NHK Student Robot Contest 2016, Clean Energy Recharging the World, 10, July, 2016
Outstanding Performance Award, Internship at Works Applications Co., Ltd. 4 - 31, March, 2016
Internship at Future Standard Co., Ltd., January - April, 2016
Third Prize (Senior Division), Tomato Robot Challenge, 18 - 20, December, 2015
Final Round of CODE RUNNER 2015, 12, December, 2015
Final Round of Code Festival 2015, 14 - 15, November, 2015
Internship at HIOKI E.E. CORPORATION, 17 - 28, August, 2015
Technical Award, NHK Student Robot Contest 2015, ROBOMINTON:BADMINTON ROBO GAME (Pit Member), 7, June, 2015
Dowango Award (11/372), ICPC Domestic Preliminary Contest, 26, Jun, 2015
Final Round of SamurAI Coding 2014-2015, 18, March, 2015
Final Round of CODE RUNNER 2014, 30, November, 2014
Technical Award, Freshman's Robot Contest 2013 (F^3RC), 29, September, 2013
CV
Download